2018 Gala & Auction was a Night of Celebration raising over $40,000! Thank You.
We are extremely grateful to our sponsors, our donors, our volunteers, and to everyone who attended our Gala and Auction on Saturday May 5th. It was good to see old friends and welcome new ones to the Morning Star School family. Your generosity let's us know how much you care about the children we serve.
We would like to extend a special thank you to our guest speaker, Mrs. Sharon Cascone Ray, a former Morning Star student, for sharing her experiences and touching our hearts in such a wonderful way. And to Sister Elise Kennedy for leading us in prayer and sharing her special knowledge in years spent helping children in need.
This annual fundraising event provides classroom enhancements, educational tools, technology and specialized programs. Partial proceeds from this year's Gala will also help launch a scholarship fund to help families with unforeseen financial circumstances.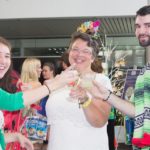 Thank you CMC Photography for capturing the evening's special moments!
Click HERE to view ALL photos!
Thank you EZ Photobooth for capturing the laughter that overflowed when
the goofy hats and glasses went on!  Click HERE, to view ALL photos!
BLISTERING HOT PEPPERS
Sondra & Dennis Tucker
Walsh Investment Consulting
Dr. Carvell & Associates
Dr. Brink & Associates
FLAMING HOT PEPPERS
Scherer Construction
Swisher International
 RED HOT PEPPERS
Christ The King Church
The Caven Family
SPICY HOT PEPPERS
Damon & Rhoda Fernandez
karen Barr
GALA COMMITTEE 
Maria Johnson, Chair
Kerry Brophy, Co-Chair
Paula Dodge, Auction Chair
Kristin Berengolts, Auction Coordinator
Traci Walker, Auction Procurement
THE HASKELL BUILDING
Beautiful Riverfront Views
111 RIVERSIDE AVENUE
JACKSONVILLE, FL 32202
GALA & AUCTION ARCHIVE