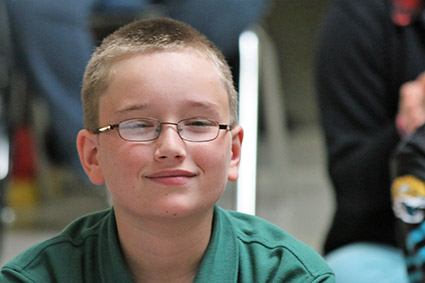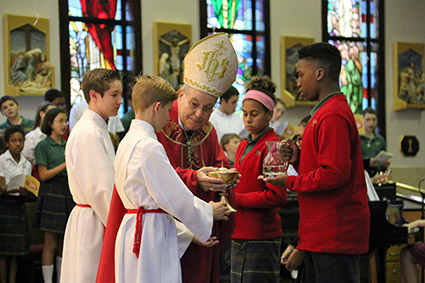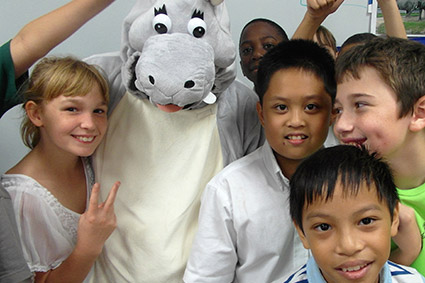 Financial Aid
As part of our efforts to ensure that a Catholic education is affordable and available to everyone, Morning Star School participates in Florida's two publicly funded, private choice programs. The McKay and Gardiner Scholarships for students with qualifying learning disabilities and the Florida Tax Credit Scholarships which include scholarships for low-income families. In addition, Morning Star School also offers Tuition Hardship Assistance to families who qualify. Please contact the main office for more information at (904) 721-2144.
McKay Scholarships
Florida's school choice programs ensure that no child will be left behind by allowing parents to choose the best educational setting for their child. The McKay Scholarships for Students with Disabilities Program annually provides thousands of Florida students with special needs the opportunity to attend a participating private school.
Students with learning disabilities who are financially eligible may apply online at: http://www.fldoe.org/schools/school-choice/k-12-scholarship-programs/mckay/
Step Up for Students
Step Up for Students offers both income-based and special needs scholarships.
INCOME-BASED SCHOLARSHIP
The two scholarships available for lower-income students are the Florida Tax Credit Scholarship and the Family Empowerment Scholarship. Both scholarships gives a student the opportunity to choose the best school that meets their K-12 learning needs.
SPECIAL NEEDS SCHOLARSHIP
The Gardiner Scholarship helps families customize their educational experience for children with special needs between the ages 3 through 22, and allows parents to use scholarship funds toward a combination of approved programs and providers that best meet with child's unique learning needs.
To learn more about these scholarships and apply, visit the links below. Program funds are limited and are available on a first-come, first-served basis.
Florida Tax Credit guidelines may be reviewed at:
https://www.stepupforstudents.org
http://www.aaascholarships.org/parents/florida
Gardiner Scholarships
The Gardiner Scholarship provides eligible students a scholarship that can be used for tuition at an eligible private school, as well as other services. The program is directly administered by state-approved nonprofit scholarship funding organizations, Step Up For Students and AAA Scholarships. The Gardiner Scholarship provides scholarships to students with Autism spectrum disorder, cerebral palsy, Down syndrome, an intellectual differences, Phelan-McDermid syndrome, Prader-Willi syndrome, spina bifida, muscular dystrophy, Williams syndrome or a high-risk child as defined in s. 393.063(23)(a), Florida Statutes.
Gardiner Scholarship guidelines may be reviewed at:
https://www.stepupforstudents.org
http://www.aaascholarships.org/parents/florida
Tuition Hardship Assistance
Morning Star School recognizes that sometimes a family may experience an extenuating circumstance after the commitment to attend a Catholic School has been made. We seek to help by offering tuition hardship assistance to families finding it impossible to make their tuition payment. These hardships may include a death in the immediate family, unexpected loss of employment or serious or sudden illness with extraordinary medical expenses. Unfortunately these funds are limited. To be considered for hardship assistance, the parent/guardian must request an application from the office.
xxxxxxxxxxxxxxxxxxxxxxxxxxxxxxxxxxxxxxxxxxxxxxxxxxxxxxxxxxxxxxxxxxxxxxxxxxxxxxxxxxxxxxxxxxxxxxxxxxxxxxxxxxxxxxxxxxxxxxxxxxxxxxxxxxxxxxxxxxxxxxxxxxxxxxxxxxxxxxxxxxxxxxxxxxxxxxxxxxxxxxxxxxxxxxxxxxxxxxxxxxxxxxxxxxxxxxxxxxxxxxxxxxxxxxxxxxxxxxxxxxxxxxxxxxxxxxxxxxxxxxxxxxxxxxxxxxxxxxxxxxxxxxxxxxxxxxxxxxxxxxxxxxxxxxxxxxxxxxxxxxxxxxxxxxxxxxxxxxxxxxxxxxxxxxxxxxxxxxxxxxxxxxxxxxxxxxxxxxxxxxxxxxxxxxxxxxxxxxxxxxxxxxxxxxxxxxxxxxxxxxxxxxxxxxxxxxxxxxxxxxxxxxxxxxxxxxxxxxxxxxxxxxxxxxxxxxxxxxxxxxxxxxxxxxxxxxxxxxxxxxxxxxxxxxxxxxxxxxxxxxxxxxxxxxxxxxxxxxxxxxxxxxxxxxxxxxxxxxxxxxxxxxxxxxxxxx
"I have two children at Morning Star School. I am so happy they are doing this. My son is in ninth grade and was so so nervous about putting him in a different school." He said. "I love this school." They are making A's and B's. I don't think that would be happening if they were in public school."
"Never give up on your dreams. Stephanie is a Morning Star School graduate who had big dreams. She graduated from UNF, Summa Cum Laude. Don't ever let anyone tell you that you can't succeed, as a result of your learning differences. You can do anything!"