Inaugural Morning Star Clay Classic
Registration includes ammunition for 100 targets (ONLY 12 and 20 gauge shells available), eye protection, ear plugs, golf cart for team, refreshments including cocktails (after shoot only), and dinner.
REGISTER NOW!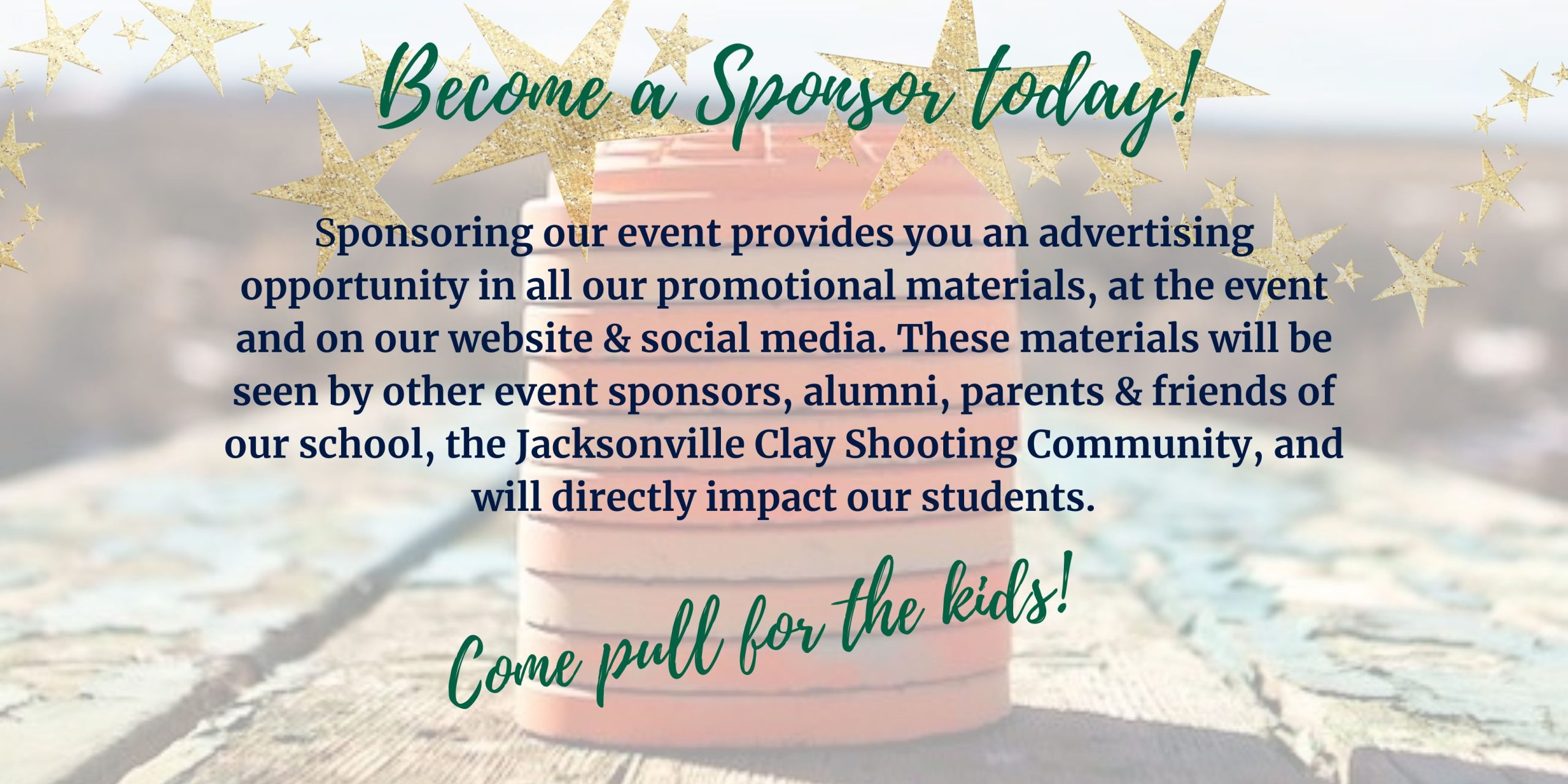 Cart Sponsor
Silver Shell Sponsor
Jubeen Veghefi & Lara Nezami
THANK YOU
CCS Jacksonville
Donovan & Abercrombie Insurance
Brad's Glass
Sauer Constructors
Mussallem Family
Bono's Real Pit BBQ
Jacksonville Clay Target Sports
Wild West Guns & Gold
2nd Amendement Guns & Range
Raffle Tickets Available Now!
Purchase tickets HERE
Only 100 tickets per item will be sold
Top Gun Sponsor – $10,000
Opportunity to speak at event
Includes 3 teams of 4 shooters each with ammunition for each shooter
Premium placement of name/logo at event & in all printed materials, including website
4 Raffle tickets & 4 Mulligans included for each shooter
3 Station signs
1 Ticket per shooter for Happy Hour
Awards Dinner & Beverages (including beer/wine)
Raffling Rifle Sponsor – $8,000
Includes 2 teams of 4 shooters with ammunition for each shooter
Premium placement of name/logo at event & in all printed materials, including website
4 Raffle tickets & 4 Mulligans included for each shooter
2 Station signs
1 Ticket per shooter for Happy Hour
Awards Dinner & Beverages (including beer/wine)
Cart Sponsor – $7,000 – SOLD
Includes 2 teams of 4 shooters each with ammunition for each shooter
Name/Logo on all carts used for tournament & in all printed materials, including website
4 Raffle tickets & 4 Mulligans included for each shooter
2 Station signs
1 Ticket per shooter for Happy Hour
Awards Dinner & Beverages (including beer/wine)
Includes 1 team of 4 shooters with ammunition for each shooter
Name/Logo at event & in all printed materials, including website
4 Raffle tickets
4 Mulligans for each shooter
2 Station signs
1 Ticket per shooter for Happy Hour
Awards Dinner & Beverages (including beer/wine)
Includes 1 team of 4 shooters with ammunition for each shooter
Prominent display of name/logo at dinner as well as in all printed materials, including website
1 Station sign
1 Tickets per shooter for Happy Hour
Awards Dinner & Beverages (including beer/wine)
Happy Hour Sponsor – $3,500
Includes 1 team of 4 shooters with ammunition for each shooter
Prominent display of name/logo at Happy Hour location as well as in all printed materials, including website
1 Station sign
1 Tickets per shooter for Happy Hour
Awards Dinner & Beverages (including beer/wine)
Beverage Sponsor – $2,500
Includes 1 team of 4 shooters with ammunition for each shooter
Name/logo on all beverage coolers as well as in all printed materials, including website
1 Station sign
1 Ticket per shooter for Happy Hour
Awards Dinner & Beverages (including beer/wine)
Silver Shell Sponsor – $2,000
Includes 1 team of 4 shooters with ammunition for each shooter
Name/Logo at the event & in all printed materials, including website
1 Station sign
1 Ticket per shooter for Happy Hour
Awards Dinner & Beverages (including beer/wine)
Shining Star Sponsor – $400
Covers entry fee for teacher or student in tournament
Name/logo at event and in all printed materials, including website
1 Station sign
Station Sponsor ONLY – $250
Name/logo at event and in all printed materials, including website
1 Station sign