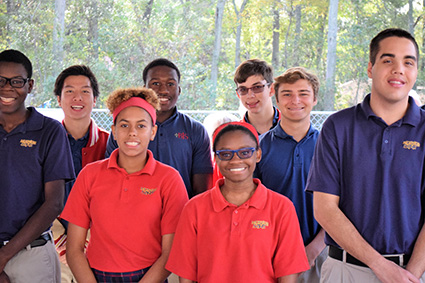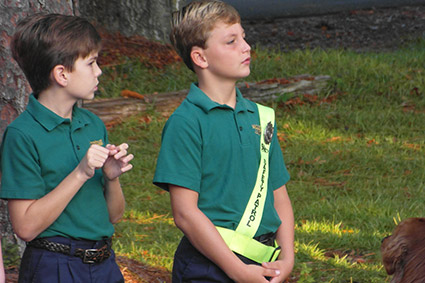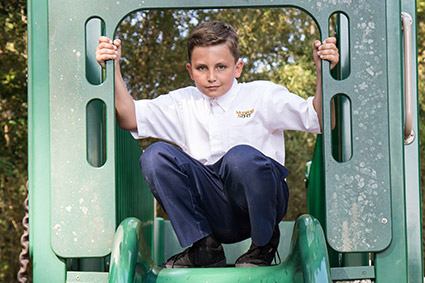 Uniforms & Personal Appearance
Morning Star students are required to be in uniform attire every day unless a specific non-uniform day has been announced. To make it easier for our parents, Morning Star is partnered with RC Uniforms. Please CLICK HERE to view and order items for your child. You may also visit or call RC Uniform at 11645 Beach Boulevard, Jacksonville, FL (904) 646-0493.
Uniform Closet: Gently Used Uniform Recycling
During the year, as students outgrow their uniforms, many parents donate gently used uniforms to our Uniform Closet.  Parents are always welcome to drop by and pick up clothing as needed.
Uniform Policy
Please refer to the Parent/Student Handbook for Morning Star's official uniform policy.
Note: Due to health and safety precautions, students will NOT change into PE clothes on PE days. Instead, all students will wear PE clothes to school on PE days. Primary, intermediate and JH students have PE three days a week and HS has PE two days a week. ​
Boys' Dress Code for Non PE Days
white, button-down collar, oxford-cloth
white or green polo shirts with logo
navy shorts are allowed for Primary, Intermediate, and Junior High students only
navy blue slacks with belt loops
solid navy, black, or white socks, no low top athletic socks
brown, black, or navy belts
pants must be worn at waistline
solid white t-shirts only may be worn under the uniform shirt
hair must be well groomed; in a short, conservative style cut above the eyebrows and ears; away from the face; above the collar. Appropriateness of hair style will be determined by the administration.
sideburns may be no longer than mid-ear
no shaved heads, portions of heads, designs, or shaved eyebrows are allowed
no facial hair
no earrings
Girls' Dress Code for Non PE Days
RC Uniforms jumpers, scorts, pants, and skirts worn no shorter than 2″ above the knee
navy shorts are allowed for Primary, Intermediate, and Junior High students only
white oxford-cloth blouses with logo
white or green Polo shirt with logo (Primary, Intermediate and JH)
white or navy socks worn above the ankles
white or navy tights may be worn in cooler months
navy shorts for Primary and Intermediate students only
hair must be cut above the eyebrow and/or styled away from the face
headbands, scrunchies, and bows matching the skirt/jumper may be worn
one small post-type earring in each lobe that is no larger than the ear lobe
No purses are allowed at school
All students
red sweaters or navy v-neck sweaters and the Navy blue sport fleece (from RC uniforms) are mandatory.
shoes must be solid black dress or athletic shoes. No swooshes, stripes, etc.  Also, if possible no markings on the soles of the athletic shoes.
no sweatshirts or flannel shirts will be allowed
shirts and/or blouses must be fully tucked in at the waist
all clothing must be appropriately sized
as uniforms become faded and worn, they must be replaced
students must practice good personal hygiene which includes clean hair, deodorant, teeth brushing etc. and have uniforms clean and pressed
no inappropriate hair coloring
no flashy or showy jewelry
no make-up or nail polish
no perfume, after-shave, scented lotion, or cologne
no hats (except on field trips days to outside locations)
no low top athletic socks
Physical Education Dress Code
Physical education uniforms must be purchased through RC Uniforms. P.E. is an academic subject and participation is mandatory. Parents/Students should be aware that:
students must have a pair of sneakers for physical education that remains at school during the week.
students must have a small gym bag (plastic grocery bag is preferred).
uniforms are taken home on Friday, laundered, and returned on Monday.
failure to have the proper physical education uniform will lower the student's grade.
Non-Uniform Day Dress Code
Shorts or skirts may be no higher than 2″ above the knees
Jeans and pants must be worn at the waist line
No tank tops, bike shorts, crop tops, or t-shirts with objectionable writing or pictures