A Message from former Principal Jean Barnes on our First Ever Graduating Class and the "Building A Brighter Future" Capital Campaign.

GREAT NEWS! OUR $1.6M CAPITAL CAMPAIGN IS COMPLETE!
In 2016 we launched a 5-year $1.6 million capital campaign to build a new high school. It was the first-ever capital campaign in Morning Star School's 60-year existence. Prior to this initiative, our school only served children from Kindergarten through 8th grade. But to continue serving the needs of our students, their families, and our special education community, we needed to expand our campus to also serve 9th through 12th grade students. The expansion filled a void in our community — as there are few schools in Northeast Florida offering high school students with learning differences specialized education.
By 2017 we were celebrating the completion of the ARCHBISHOP JOSEPH P. HURLEY BUILDING which added eight classrooms, a state-of-the-art media center and a beautiful peace garden. In addition, we were more than half way to our goal thanks to a "Circle of Friends" initiative led by visionary philanthropists Robert (Bob) Shircliff, Lou Walsh, and Jay Demetree. These amazing men introduced us to our legacy donors. Without these very special people we could not have made this a reality.
Rick and Patty Jones who named our Jr. High School Wing in honor of Sister Elise Kennedy and the Sisters of St. Joseph "… that all may be one" (John 17:21)
Dave and Mary Pat Kulik who named our High School wing in honor of Monsignor Mortimer Danaher for his years of care and support for the children of Morning Star School.
Greg and Karen Montana who named our Peace Garden after St. Mark the Evangelist in honor of Bishop Felipe Estevez.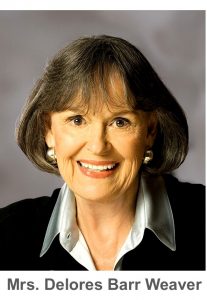 By the end of 2019, with the help of many more wonderful people, we were only $350,000 from reaching our goal. Then, just before the holidays, we received a call from The Community Foundation saying Mrs. Delores Barr Weaver wanted to help. She named our Media Center and provided a match grant to help raise the final money needed to reach our goal. What an amazing way to end the year! We are very grateful to Mrs. Weaver.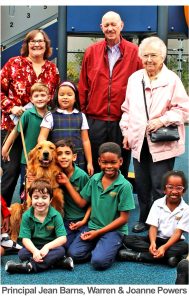 During building construction we tried to relocate our playground. Unfortunately, it was in such bad condition, it fell apart during relocation. Thanks to the generosity of  the Warren P. Powers Charitable Foundation, we were able to build a new state-of-art playground with sensory equipment to accommodate the needs of our children. The St. Anne's Playground replaced the much older one. Our younger children now enjoy a bright, happy and cheerful area for outdoor playtime.
Everyone at Morning Star School is forever grateful to everyone who contributed to the campaign. The love, commitment and dedication we have experienced over the last few years is overwhelming.  Thank you again for caring about our special education school. Please know how much we appreciate and value your support. We could not have made this dream happen without your help.
Our high school project required foresight, leadership, dedication and philanthropy. We would like to recognize the "angels" who helped us during the initial phases of this journey. Principal Jean Barnes, Bishop Felipe Estevez, Deacon Scott Conway, Father Houle, Bob Shircliff, Lou Walsh, Jay Demetree and Bishop Snyder High School for their vision, support and commitment.
I first started at Morning Star in the 4th grade. I graduated in the 8th grade and left, but only because we did not have a high school at that time. When we built our high school, I came back. I love Morning Star School! My most favorite memory is our trip to Washington, D.C. I plan on going to college. I want to attend the University of North Florida and become a teacher.